by Heidi Indahl
Can you do faith formation lessons with wiggly, active children at home? Definitely, if you use a hands-on approach. Here are three examples we've adapted from the Godly Play religious education program.
Doing formal, intentional catechesis (religious education or faith formation) with young kids can be a challenge; they're not reading and writing yet, so that's not an option, and they just aren't wired to absorb lots of spoken information. Plus, their attention spans are really short—they want to be moving and doing!
But this isn't a problem; it's just the way younger children learn best. Rather than fighting their natural way of learning, a good strategy is to adapt faith lessons to fit younger kids' hands-on, active learning style.
This was the main insight of Maria Montessori, who developed the now famous Montessori method of education, elements of which have been widely adopted even by mainstream educators.
Religious educators have also adopted elements of the Montessori method. When my children were younger, we participated in a weekly Godly Play class. Godly Play is a Protestant Montessori-inspired religious education program for children from ages about 3 through 9. You can attend classes in some areas, but the lesson plans are also available to be purchased for family and classroom use.
Catechesis of the Good Shepherd (CGS) is the Catholic cousin to Godly Play, in the sense that both were inspired by Montessori. Unfortunately, Catechesis of the Good Shepherd does not publish their lesson plans for purchase, which in my opinion makes implementing the activities at home far less practical. The lessons are generally only available to trained teachers.
That's why our family has modified, ever so slightly, the lesson plans from the Godly Play textbooks for our home-based family faith formation. Sure, we're missing some of the things we would get in a Catechesis of the Good Shepherd class, but we are also gaining the opportunity to integrate hands-on lessons at home without spending the extra money on training and materials. (Materials that I know we don't have the space for at home anyway!)
Because Godly Play is a published curriculum, I can't share entire presentations here, but I would like to share a few photos and ideas for things we have done in the past. You don't need to give an entire lesson or presentation to incorporate these ideas.
A Lesson on Baptism
Godly Play recommends presenting baptism on Christ the King Sunday (the last Sunday before Advent), but I have used the Feast of the Baptism of Our Lord (January) or any of my children's baptism anniversaries for this activity.
One of my favorite parts of this lesson is to have each child light an individual candle from the family's Christ candle using the child's baptism candle. This action emphasizes the idea that "through baptism we receive our individual light from Christ."
I also made each of my children a postcard-sized card with their name, date, and the location of their baptism printed over an image from that day…kind of like a personal holy card.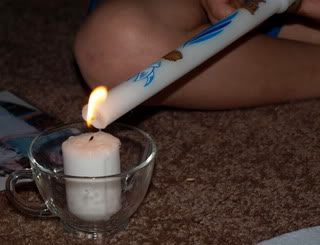 Saint Baskets
Volume 7 of the Godly Play manuals offers a formal suggestion for saint presentations.
Rather than give a formal presentation, though, I present the kids with a basket that I've assembled for a particular saint. The basket comes out on that saint's feast day, or whenever we happen to be studying him/her.
The basket usually contains a holy card, quotes or prayers attributed to that saint, our peg doll for that saint (if we have one—I have the least crafty peg dolls ever), symbols of that saint, possibly a map or biographical information, and a book, if we have one.
I look online for ideas if I need them, but try to stick to really basic things and take time to explore the basket with my younger children after reading a story about the saint.
Here is our basket for St. Patrick, which I made available to my kids for a few weeks around his feast (which is March 17). The baskets change from year to year as the kids have their own ideas about what should be included and as our collection of books and peg dolls grows. I keep everything in one drawer in my kitchen so I can pull them out at the last minute if I need to.
Which, to be honest, is usually how it happens!
Timelines
We love timelines at our house! Timelines of our family, timelines from history, and definitely Biblical timelines. These are the most time-consuming (pun intended) of the Godly Play activities, but they also are some of the most enjoyed. All our timelines are homemade, using nothing more than construction paper and pictures or clip art from the internet.
We make timelines for all sorts of things, such as the life events of specific Biblical characters or the genealogy of Abraham. Sometimes we will make just one master timeline as a family project, and other times we will make a "control chart" and a "moveable chart." In this case, we print two copies of everything and glue one timeline together, and leave the other one blank so that we can challenge ourselves to remember the order in which certain events took place.
On my Family Catechesis board on Pinterest, I have many CGS and Godly Play ideas bookmarked if you are interested in learning more.